Technology

Enabling Power Pivot in Excel 2010 & above
Training Mode
Option A: Online Globally
Option B: Offline @ Vaishali, Ghaziabad, Delhi NCR
Training mode: 1 to 1
Course Duration
Hourly: 45 hours 
Month: 1 and 1/2 months
Class Duration: 1 hr (in case of regular mode), 2 hrs (in case of weekends), 4 hrs in case of Sunday only.
Batches
Regular: Mon – Fri (01 hr)
Weekend: Sat + Sun (02 hrs)
Only Sunday (04 hrs)
Alternate / selective:
MWF / TTS (90 mins)
How to use PowerPivot and Power View Add-Ins for Excel 2010 & Above
In Excel 2013, the PowerPivot add-in, introduced in Excel 2010, that enables you to efficiently work with and analyze large datasets (such as those with hundreds of thousands or even millions of records) has been made a much more integral part the program.
The power pivot terms itself describes that it is more powerful than earlier Pivot Table. In fact, addition to the above statement, we can use more than one table / worksheet / workbook to create a custom pivot table, i.e. Power Pivot.
In fact, the Data Model Feature of PowerPivot technology makes it possible for Excel to easily manage massive amounts of data from many related (one – one, one – many, many – many), data tables is now part and parcel of Excel 2013.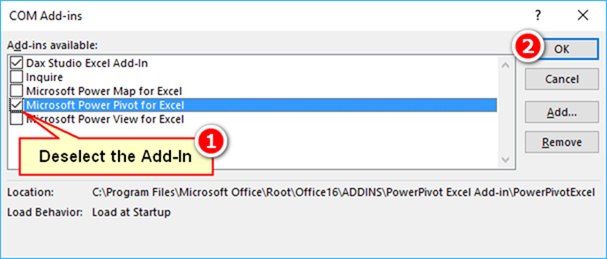 So, how to activate the PowerPivot instead of downloading from microsoft office website you can follows as:
Choose File→Options→Add-Ins or press Alt+FTAA.

Excel opens the Add-Ins tab of the Excel Options dialog box with Excel Add-Ins selected in the Manage drop-down list.

Click the Manage drop-down list button and then select COM Add-Ins from the drop-down list before you select the Go button.

Excel displays the COM Add-Ins dialog box that contains (as of this writing) three COM (Component Object Model) add-ins: Inquire Add-in, Microsoft Office PowerPivot for Excel 2013, and Power View.

Select the check box in front Microsoft Office PowerPivot for Excel 2013 and then click OK.

Excel closes the COM Add-Ins dialog box and returns you to the Excel 2013 worksheet window that now contains a PowerPivot tab at the end of the Ribbon.

And finally, you'll see the following tools in your Excel ribon